Meteolab Watering System
User-friendly software.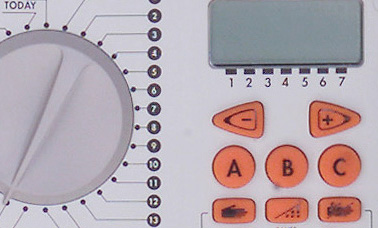 ---
User-friendly software
Simple and immediate PC-compatible interface simulating utilization of the Meteolab programmer
Multi-site management
Weather station management
Activity, status and alarm reports
"LITE" version for situations where weather stations are not in use
A computer running Meteolab can still be used for any other application
Total communication
total remote management of watering programs
facility of receiving system activity, alarm and water usage reports remotely
connection via direct cable link to programmer, or via GSM modem, or via cable modem
Flexibility of installation
for AC and DC valves
connection to valves using single cable or multicore
system expandable with satellite units
Water saving
Optimization of water usage by programming based on ET (evaporation-transpiration)
Full control of watering parameters (times, starts, watering days, water budget, etc.)
The Meteolab Watering System is a complete, flexible and customizable solution for professional watering applications, especially suitable for residential areas, public parks and gardens, shopping centres and similar sites with green spaces.
Aquameteo® software can be used to manage several remote watering sites and one or more weather stations, monitoring correct operation of the system and allowing the user to generate detailed reports, graphs and diagrams of the water pipelines: all accomplished through a simple and intuitive interface.
The watering control software suites are Aquameteo ®, used where one or more weather stations are included in the system, or Aqualite ® if there are no weather stations.

In either case, the software is installed on a PC that can continue to be used for other applications in the normal way.
The Meteolab Watering System uses a Meteolab® programmer as the field unit, which is interfaceable with the operating software by way of a Meteo Int-3 communication module.

The programmer operates entirely in stand-alone mode when executing programs and recording events and water usage.
There are three possible methods of connection between management software and field units: RS232 cable, GSM modem or cable phone modem. With these options available, the optimum solution for a given situation can be selected on a case-by-case basis.
There are two possible methods of connecting the field units to the valves: single cable for up to 15 DC valves, covering a distance of up to 5 km maximum, and multicore for up to 15 AC valves covering a distance of up to 500 m.
The software allows total and versatile management of the watering system, allowing selection of daily and weekly cycles independently for each solenoid valve, controlling operation of the water delivery and electrical system, memorizing activity and alarm data, and providing a Water Budget function to ensure optimum use of available water resources without needing to adjust the on-off times for each valve manually. In addition, there is the option of connecting up to a set of external sensors that will monitor a variety of parameters in real time (wind, rain, sunlight, temperature, flow rate and pressure, etc.), so as to ensure finely tuned watering performance at all times and in every situation.