IDS Decoder Watering System
Complete and professional software.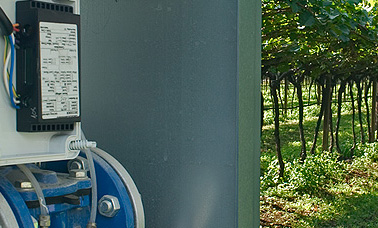 ---
Complete and professional software
Multi-site management
512 programs, 256 daily starts, watering times from 1 minute to 24 hours
Watering measured by time, gauge (mm) or volume
Management of weather stations or web-sourced weather data for calculation of ET0
Activity, status and alarm reports
Facility of GSM phone control using SMS commands
Management of one sensor for each decoder installed
Optional modules for Weather, ET0 and flow rate optimization
Total flexibility for installation
AC and DC valves and satellite units, even on the same cable, maximum utilization in the event of retrofit
up to 512 decoders for each line controller to cover every need, not least with future expansions in view
one sensor for each encoder, allowing fully selective monitoring across the system
Easy and swift diagnostics of decoder status
Diagnostic tools for monitoring decoder status both during installation and during maintenance
Two modes of communication with field units
cable: up to 10 km
radio: up to 20 km
The IDS Decoder Watering System provides an evolved and flexible solution for professional watering needs, especially as it allows the user to pilot the operation of field units directly using SMS messages sent from a mobile phone.
The "brain" of the system is the Aquameteo ® IDS software, which provides control over a practically unlimited number of Plus Line Controllers (CLP), allowing free definition of up to 512 programs with daily, weekly and yearly scheduling, by way of a simple and intuitive user interface. In addition, the functionalities of Aquameteo ® IDS can be enhanced further and customized with three optional modules:

• METEO – allows management of weather data either received from a connected station or sourced from the web;
• ET – provides automated control of the watering system, geared to characteristics of the different areas, and generates watering programs;

• FLOW – automatically optimizes operation of the system and use of water resources.
Plus Line Controllers (CLP) can be connected to the software in three ways: RS232 cable, GSM modem or cable modem. The connection between the CLPs and the field can be made in two ways: single two-core cable or radio, according to the type, coverage and location of the system.
Using the cable option, up to 512 decoders can be connected to each CLP at a maximum distance of 10 km. 9 VDC, 24 VAC valves and satellite units can also be connected at the same time along the same cable, to expand the system further. Using the radio option, decoders can be connected to each CLP at a distance of up to 20 km, each able to control up to up 9 solenoid valves (200 valves maximum).
Both types of connection will allow a complete range of sensors to be integrated into the system, for use in monitoring a variety of environmental conditions and water parameters: weather, rainfall, water flow rate and pressure, for optimum management of the system.