FUTURA Watering System
Centralized software controllable from web browser.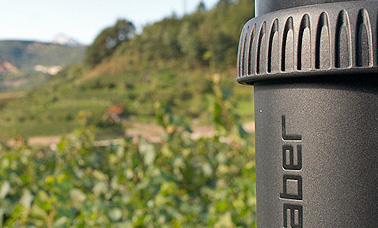 ---
Centralized software controllable from web browser
software on WEB platform
accessible from any PC or handheld PDA connected to the Internet
intuitive and functional interface
GSM communication between field units and central control system
maximum freedom of positioning
two-way communication between field units and central control system
functionality also including interaction via SMS, in manual mode and for alarms
Extreme ease and versatility of installation
powered by internal battery
compact dimensions
immersion waterproof
no need either for protective outdoor cabinets or for cable runs
swift installation: 10 minutes for each field unit deployed
AC or DC valves piloted
Evolved management and control services
programming and scheduling of watering activities
"expert" programming and management functions
program change actions preset via WEB/SMS
recording and management of watering activity, alarms and sensors
localization of units in alarm condition
multi-user access allowed
Scope for expansion by adding other field units
decoder, Futura® FCU radio decoder and Futura® slave


The Futura® Watering System widens the scope of application for professional centralized watering equipment, as it both dispenses with the need for wires and exploits the best known and most popular user interfaces: Web browsers and SMS text messages.
The revolution of the Futura® Watering System begins with Smart Watering Management Automation: simply visit www.clabermeteo.com as a registered user and access the Aquameteo® Web programming and control software. This can be done from any computer, or even from a handheld device; once on the page, following the simplest of procedures based on familiar web language, the user can set up to 16 programs with daily, weekly and yearly watering schedules, monitoring the utilization of water resources and the operation of the system, as well as view the map showing the position of Futura® FCU units and memorize all activity and alarm events.
Innovation continues with Futura® FCU outdoor units, which are able to dialogue with the Aquameteo® Web software by way of an integrated GSM system. Featuring a highly compact and waterproof design, these units can be installed swiftly and easily in a sunken cup, preventing environmental impact and avoiding the costs of installation in the open, as well as reducing the risk of vandalism. Futura® FCU units are powered by internal batteries that guarantee a life of 1 year (and can be recharged or replaced whenever the charge level detected by the system drops below a factory-set safety threshold.) Futura® FCU units can also be powered by mains voltage or solar panels.
Futura®FCU field units are able to control up to 9 AC or DC solenoid valves. There are also three different ways of expanding the communication system, using satellite units to increase the number of valves controlled: single cable, GSM and RF radio.
In addition to remote programming with Aquameteo® Web software, Futura® FCU units can receive instructions directly in the field, from green care staff or system users, contained in SMS text messages sent with a mobile phone. The units can also be connected to external sensors monitoring a whole range of environmental, weather and water parameters, so as to optimize the performance of the watering system still further: yet always with maximum simplicity and effectiveness.